Two Indianapolis-based companies—Telamon Corporation and Johnson Melloh Solutions— have partnered with the Indianapolis Airport Authority (IAA), the City of Indianapolis, Indianapolis Power & Light Company (IPL), General Energy Solutions (GES) and Cenergy Power to build the largest solar farm on airport real estate in the world, the IND Solar Farm. The solar farm is comprised of three phases.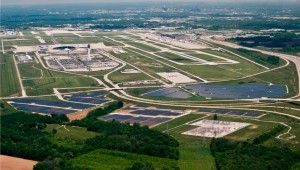 All partners involved in this solar farm project are committed to increasing the city's sustainability while helping grow and diversify renewable sources of electricity to power the growth and development of Indianapolis. The solar farm is expected to generate more than 36.1 million kilowatt hours of electric energy annually, enough to power more than 3,650 average American homes annually.
The solar energy produced will be sold to IPL through a 15-year power purchase program and feed into the grid of existing surface transmission lines that connect the airport terminal to the IPL substation west of the airport.
The electric energy generation facility includes 87,488 solar photovoltaic panels, each capable of producing a range of 280-305 watts at peak power production. The panels are installed on fixed ground-mounted racking systems (Phase I) and ground-mounted tracker systems (Phase II/III) that fill nearly 183 acres of land on both the east and west sides of the terminal near the entrance to the Indianapolis International Airport.
Project Overview
183 acre solar farm
Phase I commissioned in October 2013
Phase II/III commissioned in August 2015
20 megawatt AC (25 megawatt DC) solar photovoltaic (PV) system
Produces 36.1 million kilowatt hours per year, enough to power 3,650 homes
Largest solar power project in Indianapolis to date
Largest solar power project in the world at an airport to date