December 10th, 2014 | Posted in News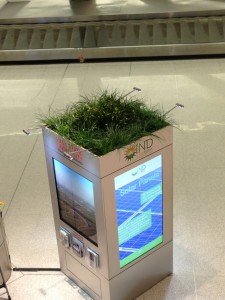 IND Solar Farm project partners Johnson Melloh Solutions and Telamon Corporation are happy to announce that an interactive kiosk is now available for viewing in the baggage claim area at the Indianapolis International Airport.
Sponsored by Ball State University, the kiosk serves as an educational tool for airport visitors to learn more about the IND Solar Farm, the largest airport-based solar farm in the world. Throughout the kiosk pages, users can watch a time lapse video of construction, learn how solar works, read through various statistics tied to the solar farm, and much more. The kiosk will be updated with additional information as projects are completed.
The second phase of the IND Solar Farm was approved by the Federal Aviation Administration and is on schedule to be completed by the end of 2014..